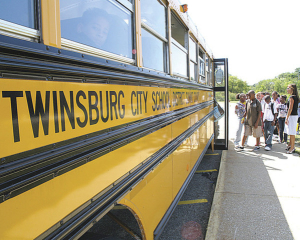 By Emily Moran | reporter Published: April 15, 2015 12:00AM
Twinsburg Looking to lower its carbon footprint and save thousands in gas costs, the school district has approved an agreement with EcoChem Alternative Fuels that will convert commercial grade diesel into a more efficient, low ­emission diesel fuel.
The new fuel, known as High Performance Clean Diesel, will be put into the 41 buses of its transportation fleet, and is expected to save the district at least $5,000, and as much as $25,000, per year in fuel costs, while reducing CO2 emissions by 237,000 pounds.
"We are always looking for ways to be more efficient, effective and environmentally friendly," Director of Business Services Chad Welker said April 7. "Not only should this initiative improve our diesel fuel economy and save the district money, but it should reduce our carbon footprint as well."
According to Welker, the agreement with Dublin, OhioÂ-based EcoChem will improve the transportation fleet's miles per gallon performance by at least 10 percent, which will translate to the between $5,000 and $25,000 in savings.
"If I am getting 5 miles per gallon on my bus currently, I should expect to get 5.5 mpg on my bus after using the new process," Welker said. "The savings depends heavily on the price of diesel fuel.
"If diesel gas prices return to the levels experienced at the beginning of the school year, I expect to save at least $25,000 per year in diesel fuel costs," Welker said.
According to Welker, the district's bus fleet drives more than 550,000 miles annually, consuming approximately 100,000 gallons of fuel. The higher efficiency diesel costs 18.5 cents per gallon to convert. Based on 100,000 gallons of fuel consumed annually, that translates to an $18,500 cost to the district per year.
"The Twinsburg City School District continues to seek opportunities to reduce expenditures while also paying attention to initiatives that promote the conservation of our resources," Superintendent Kathryn Powers said April 8. "The agreement that brings the High Performance Clean Diesel initiative is another way for the district to operate in a more efficient and environmentally friendly way."
"Through this HPCD initiative, we should reduce our CO2 emissions by over 237,000 pounds each year," Welker said.
If the higher efficiency diesel proves successful in cost savings and emission reduction, the district will continue with EcoChem next school year, Welker said.
The idea to convert to higher efficiency fuel stemmed from a 200 district networking group known as the Ohio Schools Council, to which the district belongs, which shares best practices and new initiatives between members.
According to Welker, Berea City Schools pioneered the initiative and did experience more than 10 percent improvement in diesel fuel economy.
"We are always exploring green initiatives as we continue to evaluate and improve our processes," Welker added.
"I'm certainly pleased with the opportunity to work with Twinsburg City Schools," Founder of EcoChem Joshua Koch said April 10. "We are very excited to have Twinsburg
[City Schools] and we look forward to saving the district money."
Email: emoran@recordpub.com
Phone: 330-541-9423
Twitter: @twinsburgohio